Type in the name of your logo and click the search button to see if we have the logo in our database of 3.5 million logos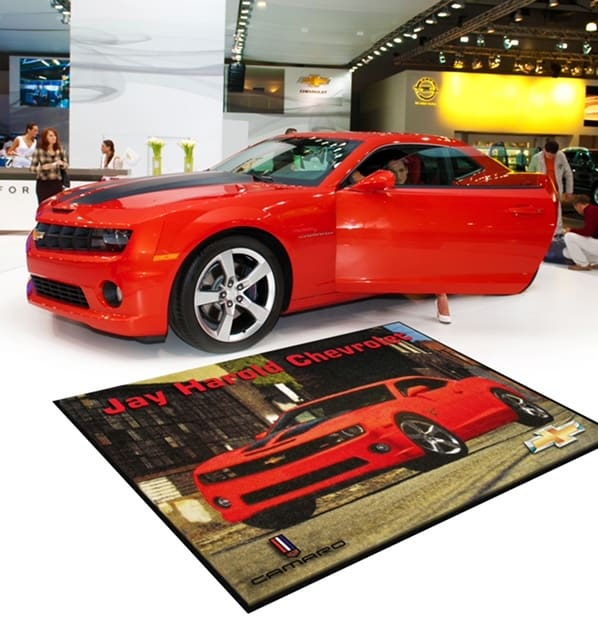 To create an online environment that is consumer friendly while making logo floor mat buying simple and cost effective.
We see logo floor mats as a low cost sales and marketing tool that places your Logo in front of your customer as they enter your facility. When used properly, our logo mats are a safe and effective way of keeping floors clean and dry.
Welcome to LogoFloorMats.com
Logo mats, custom logo mats, logo floor mats, Waterhog logo mats, school logo mats, military logo mats, business logo mats, carpet logo mats, personalized logo mats, rubber logo floor mats, church logo floor mats, logo carpet mats, since 1996 LogoFloorMats.com has been the leading provider of logo floor mats.
You have decided to buy a logo floor mat but you're curious to how it is made? Click the video to the right and watch a five minute video on how our manufacture makes a mat from tufting the carpet, to printing, backing, trimming and shipping.
I ordered mats from you earlier this year and would like to submit an order for more since we had an excellent buying experience last time! We would like to order a quantity of 11 mats with the logo "EndoSim" and a quantity of 20 mats with the logo "LapSim".
We received the mats. They look great!! Thank you so much for your time, patience and effort for this purchase. We are keeping the companies information for near future reference. Again, great job, thank you!
As you know, this is our fourth resort and we have ordered approximately 200 logo floor mats. Being in the development industry we order items from a variety of vendors and you all always make the ordering process so simple and smooth and the delivery time is unbelievable. Your logo mats will definitely be a part of our cabin furnishings in the future.
Thank you so much for the great customer service and for the awesome logo mat! Everyone is so impressed with the way it turned out. It is an awesome addition to our front waiting area.
In just one day of exposure the rug has already generated two leads for you -- I've passed along the information to folks that are interested in doing the same with their logos. I also told them about your responsiveness and professionalism, of course. I am your advocate on the East Coast!
We are SO unbelievably impressed by the customer service and the turn around time on our order. With out a doubt, we will be ordering from you again. Thank You Randy for making this such an easy process for us.
When it came time to ordering logo mats for our apartment communities, working with Logo Floor Mats could not have been easier! Having had poor experiences with other companies, I was so relieved to find Kim and Randy who both delivered fast attentive and overall outstanding customer service at every step of the process. The product looks great, is easy to maintain, and our branding is well represented. We've had wonderful feedback from both Living Well Homes team members and our residents. I highly endorse Logo Floor Mats for any company looking to enhance their branding with rubberized outdoor welcome mats.
I just wanted to let you know the Mat came in today. Wow, it is beautiful! You did an amazing job! I am so pleased with it. The rug looks and feels like its high quality. The Graphics came out perfect! Thank you again for being patient and very professional! Truly a great experience!
I got quotes from four different companies and this company had the best pricing, offered the quickest turn around and they were the most professional.
At LogoFloorMats.com, we have a preferred manufacturer, M+A Matting (formerly Mountville Mills, Inc.) M+A Matting is the largest manufacturer of commercial rubber backed mats in the world. While the bulk of M+A mats go to the commercial laundry industry for the rental market, we are honored to be one of their largest direct logo floor mat providers. We have 1000's of satisfied customers over our 24 year history. The average indoor logo mat ships in 5 business days, outdoor Waterhog logo mats ship in 5-7 business days, and non-logo mats ship 3 business days.